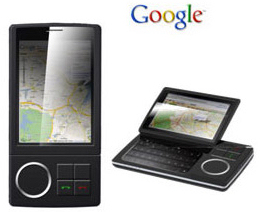 The chatter on the net amongst the tech community is that Google may be close to announcing its own mobile phone, giving Apple's iPhone its first major competitor.
It began when a poster on the Mobileburn message forums said that they had taken an online survey about possible user interest in a Google phone that featured WiFi capability, 3 Gigs of onboard storage and a built-in 2 megapixel camera. They managed to grab a screenshot of the design which resembles something that may be Samsung inspired.
As the story traveled more gasoline was added to the fire when another user found a job posting on Google's website calling for applicants for an analog designer/engineer position. "Google is experimenting with a few wireless communications systems including some completely novel concepts," reads the Google job description in part. "We are building a small team of top-notch Logic Designers and Analog Designers aimed at nothing less than making the entire world's information accessible from anywhere for free."
That certainly sounds like Steve Jobs should sit up and take notice, doesn't it?