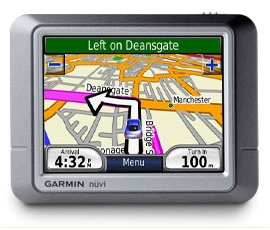 Garmin recently announced the release of the nuvi 200 series GPS devices, offering a less expensive option for in-dash navigation systems with the nuvi 200, 250 and 270.
The nuvi 200 series works similar to most GPS devices, offering the ability to find destinations by address, business name or even by category, then offering voice-prompted turn by turn directions that automatically recalculate your route if you venture off the designated route.
The design of the GPS device has a built-in antenna and a slim design not much larger than a deck of playing cards, and comes ready to go out of the box with maps pre-loaded. The price conscious nuvi 200 also comes with the Garmin Travel Kit of handy applications and the Garmin
Travel Guide and SaversGuide content. This series of navigation systems also has some added security allowing the owner to lock the device, which can only be unlocked with a 4-digit security code or by taking the device to a predetermined physical location.
The nuvi 200, nuvi 250 and nuvi 270 are expected to be available in April of this year retailing for $399.99, $499.99 and $599.99, respectively. The difference in the systems of the 200 series are in the loaded maps, with the 200 having the US and Puerto Rico, the 250 expanding in to Canada and the 270 extending to 30 other countries around the world.
Garmin, GPS, nuvi 200, nuvi 250, nuvi 270