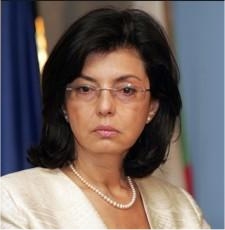 Despite a plea that Steve Jobs, CEO of Apple, made to the big music companies in an open letter asking for DRM-free music, it appears that an issue with the European Union and Apple is coming to a head.
The European Union consumer chief Meglena Kuneva has been quoted by Reuters stating that she is unhappy with the restrictions that Apple imposes on their downloaded music. "Do you think it's fine that a CD plays in all CD players but that an iTunes song only plays in an iPod? I don't. Something has to change," said Kuneva. This quote was taken from a preview to an interview that is to be fully published tomorrow.
The rights management that Apple has built into the iTunes music download service restricts consumers from transferring the downloaded files across the internet and to different devices. It does allow downloaded music files to be transferred between an unlimited number of iPods and up to 5 different computers, but restricts it from being played on any non-iPod device.
This type of DRM restriction is not exclusive to Apple, as both Microsoft and Sony have similar systems that limit music to be played on their own respective players, but due to the size and popularity of Apple iTunes and the iPod players, they seem to have become a larger target.
Last year France had stated that they were going to make a law that would require iTunes to allow the music to be played on any player, and Apple refuted the threat calling it government-sponsored piracy and the law was made a little more lenient. In January, Norway declared that iTunes was simply illegal for residents to download and said that Apple had until the 4th quarter of this year to make the music transferable to any player, and shortly after consumer rights groups in Finland, France and Germany joined in.
The comments made by Kuneva were confirmed as accurate by a Commission spokesperson, but the spokesperson stated that they were her personal views only. The result of a review that Kuneva is leading could eventually lead to the revision of EU laws regarding cross-border consumer rights, but it is still unclear in which direction those revisions would lead.