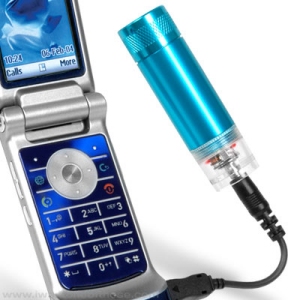 If you've ever had a low battery issue with your cell phone because you forgot to plug it in, you know what a pain it can be when you absolutely positively have to make that next call and you have zero juice left in your rig. Well, now you can solve the problem by picking up an Emergency Phone Charger that is able to suck out the energy stored in an AA battery and import it directly into your phone.
The aluminum unit comes in a turquoise color and has four different adapters, making it nearly universal for every type of phone out there. A single double A will give you up to two hours of additional phone time, and with that kind of delivery you're sure to be able to get your business done before plugging it in for the nightly recharge…or at the very least, tide you over until you find a store that sells more batteries.
The EPC is available online and will set you back about $10.75 plus shipping charges from its UK sending point. If you want to make sure that this baby is compatible with your phone model check out the product site for a complete list.