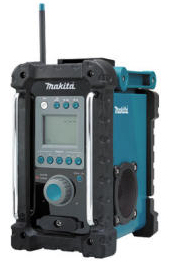 Recently released from Makita is the brand new BMR100 FM/AM Job Site Radio. Weighing in at approximately 9.2lbs, this radio delivers "rich stereo sound from two powerful 3.25 side-firing drivers." Similar to the other Makita tools, the BMR100 is designed with a rugged weather resistance for tough jobsite conditions with a protective bumper design for additional durability. Should you ever happen to drop an anvil on this baby, it should be able to withstand it.
Even against an accidental bucket of water poured on it, the BMR100 should be able to hold its own. The super durable radion runs for "two working days" or 16 hours on a single charge, which in most cases I'm familiar that's really only one working day but still pretty good nonetheless. It includes volume and tuning dials for easy control and has 10 preset FM/AM buttons.
Although we are not too sure how necessary the god-like armor this radio has on, the BMR100 will probably outlast any other tools on the jobsite.
via Crave