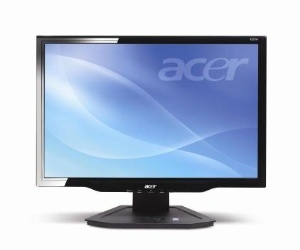 Hoping to attract the users looking to upgrade their monitor now that they have Microsoft Vista installed, Acer America has rolled out five new LCD monitors in its xSeries line, all Vista certified. The company states that any one of its xSeries screens are perfect for the latest multimedia, gaming or video applications and are priced affordably.
The lineup consists of the traditional resolution 1280×1040 17-inch x171s ($179.99) and the 19-inch x191sd ($189.99) models. These two units offer 700:1 contrast ratio and 300 cd/m2 typical brightness. The widescreen Acers include the 19-inch x191Wsd ($279.99), the 22-inch x221Wsd (279.99) and the 24-inch x241Wsd (599.99.) The first two WS models offer 800:1 contrast ratio (bumped up to 100:1 for the x241Wsd), 5 millisecond response times and 300 cd/m2 typical brightness (upped to 400 cd/m2 for the x241.) Last but not least, the x191 offers 1440×900 native resolution, the x221 has 1680×1050 and the x221 features 1920×1200 rez.
All of the xSeries monitors come with Acer's three-years parts and labor warranty.