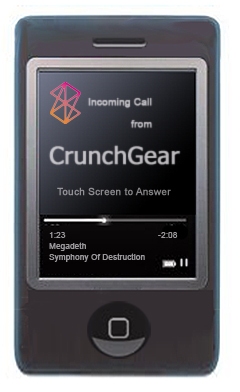 Crunchgear got a tip yesterday that a Zune Phone from Microsoft is in the works, and as far as tips go they seem to think this is a pretty solid one. According to the tip, executives from Microsoft are currently working out details of the product and its release.
The gadget site states a number of "known" details about the rumored Zune Phone and it's launch. First, the new mobile phone would be a smart device that interfaces with the existing Zune product but will not run Windows Mobile, despite being a Microsoft product.
The Zune cell phone will have connectivity to sync up with the Xbox 360 to stream media content through a wireless connection. This sounds pretty cool, but we're just not sure how practical that would be. Transferring movies from the Xbox to the mobile media player does extend its use, however is that something worth doing? I'm guessing that if this rumor comes to fruition, there would be more to this feature to make it more worth while and attractive for consumers.
CrunchGear also states that their tipster has the time line of the Zune set to be available by the holiday season yet this year, but also states that the development has "hardly started". This time line fits in nicely if the product is already well into production and Microsoft is leaking information to start building some anticipation, but it seems awful tight otherwise. To get a item from a concept to a market-ready product seems like it would take more than 9 months, and we saw how effective Microsoft was with bringing Vista to market Also, being a mobile phone the Zune will have to get an FCC approval, just like the iPhone is going through now. That alone might push it past this holiday season. This is all assuming that Microsoft hasn't started developing and that this tip isn't just a bunch of smoke.
One other question that ran through our mind here at SlipperyBrick in light of recent events with Apple is "what will they call it?" Are there any trademarks out on the zPhone? Maybe the Phune? We'll keep you up to date as more information surfaces.
Image Credit: CrunchGear
Microsoft, Zune, Zune Phone