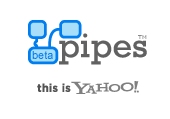 Yahoo! has introduced a new online service called Pipes that allows you to create unique mashups of RSS feeds by manipulating and aggregating feeds to create a new feed that is more useful and relevant. For example, you could combine the feed from the NewYork Times with Flickr and see Flicker images relating to the articles.
To create a Pipe, you use a visual editor to edit and filter different types of feeds. Pipes consist of pre-configured modules which are drug onto the editor's canvas and then wired together in a chain in which one module's output becomes the input for the next module. Each module performs a single, specific task. For example, the Fetch module will retrieve a feed URL, while the Sort module will re-order a feed based on criteria you provide. There are currently over 20 different module types to work with.
You can also add user input fields to your Pipes. These fields will prompt users for additional information for the Pipe and allows you to create more sophisticated pipes that have more customized range of uses. For example, I found an interesting eBay Pipe that was designed to use eBay's RSS API to find items within a certain price range. The eBay pipe takes three parameters: the search term, minimum price, and maximum price. The image below is a screenshot of the Pipe editor for the eBay Pipe.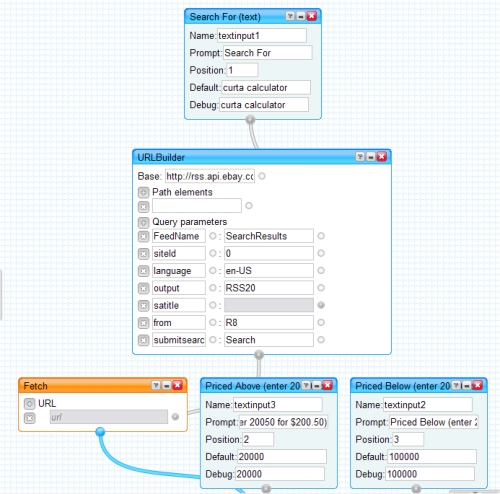 Pipes are saved on the server and can be retrieved in RSS, RDF, JSON and Atom formats. You can also publish your Pipe where others can use it, clone it with their own improvements, or use it as a subcomponent in a different Pipe.
Pipes is free and requires a Yahoo! account to use the service.