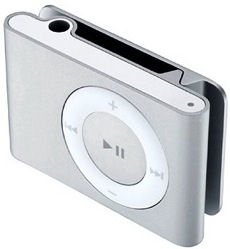 That's right, this is a second generation iPod shuffle that is waterproof! This waterproof Shuffle does not require a case, but has the waterproofing applied on the inside allowing normal use of the device at its original size.
This Shuffle is water resistant for depths up to 10 feet which makes it safe for showering, bathing or swimming as long as you keep it relatively shallow. SwimMan, the originator of the modified waterproof Shuffle, also has waterproof headphones to go along with it for your underwater listening enjoyment.
The iPod Shuffle with applied waterproofing is available now, and $250 gets you the 1GB Shuffle, the waterproofing technology and a set of waterproof headphones along with a limited warranty (Apple's warranty is most likely void with this).
iPod, Shuffle, swimman, Waterproof, waterproof ipod