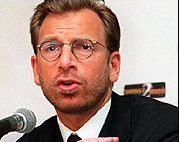 In a speech at the 3GSM World Conference in Barcelona on Wednesday, Edgar Bronfman Jr., chairman and CEO of Warner Music Group, spoke out in support of a digital music DRM (digital rights management), most likely in counter attack to the open letter from Steve Jobs of Apple regarding their DRM.
"DRM and interoperability are not the same thing," said Bronfman. "We believe in interoperability…Consumers want it and should have it. We at Warner, and I hope the rest of the music and content industry, will make it as easy as possible to achieve interoperability."
Apple has been under some ridicule lately for its music DRM which restricts music downloaded from Apple to be used only on iPods, as well as restricts the number of computers and iPods that the music files can be transferred to.
Some argue that this system is unfair and that the downloaded music should be free to transfer however the consumer would like once purchased, much as it would if someone purchased a compact disc and ripped it to play on an MP3 player.
In the open letter, Jobs blamed the DRM requirement on the large music companies such as Warner stating that in order for Apple to have the music available through iTunes they were required to have some security to prevent the downloaded files to be freely transferred through the internet. Jobs also pointed out that iTunes has one of the least restrictive DRM's available, nd that Sony and Microsoft also have similar DRM's that restrict downloaded music to their respective, proprietary music players. Apple seems to be in the spotlight on the issue simply because iTunes is the largest online music venue.
By the end of the letter, Jobs called on the larger music companies, namely Universal, Sony BMG, Warner and EMI, to look at throwing out the DRM and have no restrictions on the downloaded media. Jobs' reasoning is partly that most music that users have on their iPod today is not from iTunes and can be freely transferred, anyway.
Bronfman from Warner is not in agreement with his, and although he admits that the current DRM plan may not be ideal for consumers, he feels there must continue to be some restrictions to prevent the free distribution of downloaded music.
"I don't agree that intellectual property should have no protection. We should all agree that intellectual property deserves some measure of protection," he said. "But that is distinct from the issue around interoperability…There can't be so much protection that we create a poor consumer experience. We need to work to find perhaps a better balance than works today."