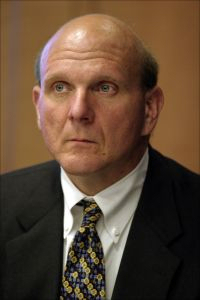 In a Monday conference call to investors Microsoft CEO Steve Ballmer said that sales expectations for the company's new operating system, Windows Vista, had been "overly optimistic" – but not by the software titan that made the program. Instead, Ballmer dumped blame on aggressive expectations by analysts who had stars in their eyes rather than reasonable sales expectations. "Some of the Windows revenue forecasts I've seen are overly aggressive," Ballmer was quoted as saying. "You shouldn't think of a huge surge in fiscal year '08 relative to '07. There are a few who think we are going to do so much better than PC growth."
After five years spent in development Vista launched to retail at the start of this month. Microsoft has reportedly spent around half-a-billion dollars alone to market the latest version of Windows to the world's computer users. After a launch day that saw a number of large retailers open at midnight to cash in on the hype, word began to trickle down that first week sales of Vista were almost 60 percent less than sales of Windows XP back in 2001. The new version of Office seems to be fairing better, selling more than double the number of copies that Office 2003 sold in its first week at retail.
Vista's sluggish sales have hurt Microsoft's stock and Ballmer's downplay of early expectations can be viewed as a form of spin control to stop the sinking of the stock price. Ballmer further tried to alleviate investor concerns by saying that Microsoft might strengthen its anti-piracy technology installed in Vista to reduce pirating in emerging markets such as China, Russia, Brazil and India, where up to 80% of all software sold are in fact pirated copies. "We have new technologies built into Windows Vista, something we call Windows Genuine Advantage [that] we've really dialed up in capabilities with the Vista release," Ballmer said. "I do think that will bring some revenue growth." Every little bit helps, Steve.