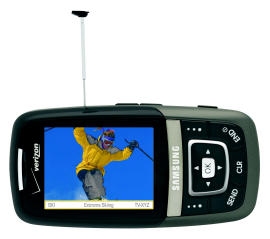 It looks like Verizon is getting ready to launch its Wireless V Cast Mobile TV service later this week. According to a hidden away sign-up sheet located on the Verizon website, the service is scheduled to kick off on March 1.
When queried as to the information Verizon neither confirmed or denied that 3/1 is V-Day for the company, nor does the website list exactly where the service will be provided or how much it will cost. At least Verizon hasn't removed the option from its sales website which is a good sign that something is indeed coming shortly.
V Cast Mobile TV was announced last month at the Consumer Electronics Show and will give consumers the opportunity to receive live television broadcasts to their mobile phones. Qualcomm is building the network that Verizon subscribers will use, beaming its signal through channel 55 on the UHF band.
Keep your eyes on the Brick for breaking news on this story, and if Verizon does go forward with an announcement on Thursday we'll have the details for you then.
via Crave