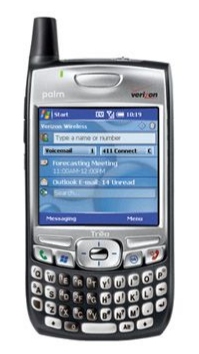 Verizon and Palm have today announced the availability of the Palm Treo 700wx from Verizon Wireless, which looks to completely brick the Treo 700w.
Sprint has had the Treo 700wx available for some time now and Verizon is finally getting there chance at it. Verizon currently has the older brother 700w, which is basically the same phone minus just the 'x' and 32MB of internal RAM. Both its predecessor and the Palm Treo 700wx are available from the Verizon Wireless online store for $399.99 with a two year contract, and with a $100 mail-in rebate the price almost comes close to the $249 that Sprint is offering.
You might begin to think, as did we, that at this rate the new offering from Verizon would have Windows Mobile 6 added into it, but no dice. It does however include pretty much the same features as it has with the Sprint version and its older sibling, including a 1.3 megapixel camera, Bluetooth, Windows Mobile 5, video messaging, EvDO, SD expansion slot, 60MB of internal storage, a QWERTY keyboard and a 240×240 color display.