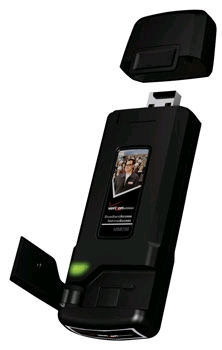 Verizon Wireless has unveiled a new Evolution-Data Optimized (EV-DO) Rev. A upgrade to their high speed broadband service. This upgrade will allow wireless customers to enjoy faster broadband speeds which they can access through the USB720 EV-DO USB wireless modem adapter which was also recently launched by Verizon. The USB modem provides wireless broadband internet access to notebooks desktops and hand held devices with a USB interface.
This upgrade is a strategic answer to the same service offered by Sprint and launched last year. EV-DO Rev A. is the fastest wireless network available to consumers in the US, which allows not only fast download speeds but has impressive upload speeds as well. Users of the new broadband service will have typical speeds of 450-800 kbps down, and 300-400 kbps up.
The USB720 measures 3.52 x 1.49 x .69 inches and is compatible with existing broadband networks from Verizon. The company plans on rolling the new Rev. A service out to the following areas of the US first, with more likely to come in the near future:
Boston and suburbs
Richmond and Hampton Roads, VA
Chicago and suburbs out to Gary, IN
Utah, including Salt Lake City
All EV-DO areas in Florida
Pricing for the new EV-DO Rev. A service from Verizon Wireless runs $79.99 with some discounts for customers with existing plans. The USB720 USB modem will be offered for $129.99 with a two year deal, or $199.99 for a one year agreement. The service in selected areas and modem are both available immediately through the Verizon Wireless website.
Source [Mobile Tech Review]