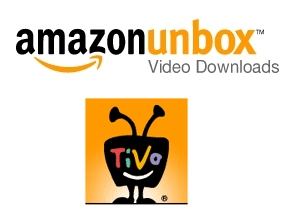 TiVo and Amazon.com have announced a new service that will allow TiVo Subscribers to watch Movies and TV Shows downloaded from Amazon Unbox on Their TVs.
With "Amazon Unbox on TiVo", subscribers will have the ability to rent and purchase movies and television shows. Television shows will cost $1.99 per episode and most movies will range between $9.99 and $14.99 for purchase with movie rentals starting at $1.99. The current list of supported major studios includes CBS, Fox Entertainment Group, Lionsgate, Paramount Pictures, Universal Studios Home Entertainment and Warner Bros.
Once live, subscribers will be able to activate the service on Amazon.com to establish a link between their TiVo Series2 or Series3 box. Once the service has been activated, eligible movies and television shows can be downloaded directly to the TiVo box. Downloaded content will automatically appear in the "Now Playing" list along with other recorded shows. All video purchased from Unbox will be stored in the "Your Media Library" at Amazon.com for future access.
The Amazon Unbox video download service was launched back in September 2006 and includes a catalog containing thousands of movies, television shows and other videos for download. Amazon Unbox on TiVo is currently in beta testing among a select group of TiVo subscribers.