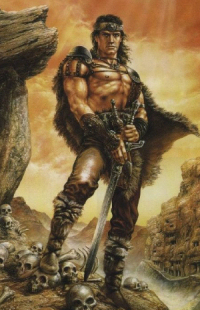 THQ has confirmed that there is a Conan game in the works. This game will be released for both the 360 and the PS3 and is being developed by the same guys who brought Marvel Nemesis: Rise of the Imperfects to the PS2 – Nihilistic Software.
Playing as Conan himself, this game will be of similar format to the popular God of War. As described by THQ, "Conan is an action adventure video game featuring a story of epic brutality, sheer evil and visceral combat". Along with this, a deep and gratifying combat system (naturally with deadly weapons included), varied fighting styles, interactive environments, and, of course, more enemies than you can wrap your head around are all promised. Harnessing the power of the next-gen consoles Conan is sure to include its batch of special and lighting effects, as well as a killer soundtrack – so keep an eye on this one.
For those of you who aren't too familiar with the Conan franchise, here's a brief run-down: Created by Robert E. Howard, Conan debuted to the world in 1932 in the form of a book. Set in the fictional Hyborian Age, Conan is a barbarian of the far north. He is described as having "sullen blue eyes" and a "square-cut mane". He is also a very talented fighter (of course), as well as a commander, tactician and strategist. Since then a vast array of Conan novels have been written, not only by the original author. Spawning action figures, over 800 comic books and even the odd motion picture, Conan has become somewhat of an iconic figure.
Set for early 2008, the Conan fans out there better get set for the latest edition to the long lasting franchise.