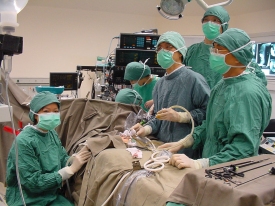 Are surgeons who regularly play video games better equipped to operate on you?
A study by an Iowa State University psychologist indicates that Surgeons who play video games more are skilled and less likely to make mistakes than their non-playing counterparts.
The study identifies a strong relationship between time spent playing video games and the surgeon's capabilities performing laparoscopic surgery. Laparoscopic surgery is a surgical technique where operations in the abdomen are performed through small incisions – normally less than 1.5 cm – as opposed to the larger incisions needed in traditional procedures.
"We found that laparoscopic surgeons who played video games were quicker and more accurate, and you typically don't tend to see those two elements working together when it comes to surgery. So these were surprising results," said Douglas Gentile, an assistant professor of psychology at Iowa State and one of six authors of the paper titled "The Impact of Video Games on Training Surgeons in the 21st Century."
The study focused on the Rosser Top Gun Laparoscopic Skills and Suturing Program, a program used to train thousands of laparoscopic surgeons worldwide. The study found that laparoscopic surgeons who previously played video games a minimum of three hours a week had 37 percent fewer errors, were 27 percent faster, and scored 42 percent better overall than their non-playing colleagues.
The study was published in the February issue of the Archives of Surgery. Thirty-three surgeons from Beth Israel Medical Center participated in the study — 21 residents and 12 attending physicians, including 15 men and 18 women. Their specialties included general surgery (22), urology (2), and obstetrics/gynecology (9). Nineteen of the participants reported playing video games at some point and 10 reported playing nearly every day.