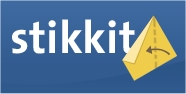 Stikkit is a productivity web application that helps you manage contacts, plan and organize meetings, and share and comment on ideas. You can use Stikkit with your email to forward notes and even transform emails into a stikkit – automatically noting your events, to-dos, contacts, and bookmarks.
Stikkit has released an API to give developers the ability to "fold and form" stikkits for their own purposes. The Stikkit API is easy to obtain – if you have a Stikkit account, you've got the key. The API is REST-based, and uses simple HTTP requests. The responses can be returned in your choice of Atom, vCard, iCal, json, or Text – depending on the method. The methods in the API will allow you to get, create, delete, update, and share stikkits; make and list comments; toggle todos; and list tags.
Stikkit mashups are sure to follow.