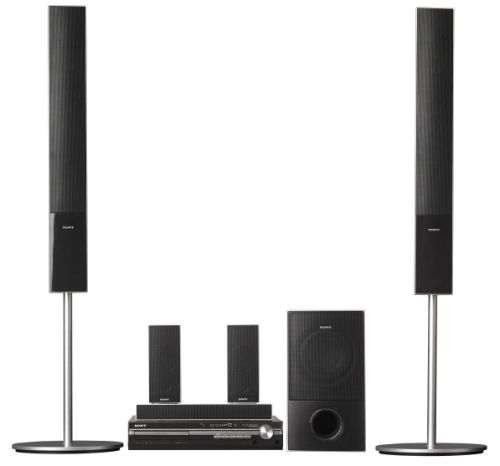 Sony Electronics has plans to release seven new home theater systems to retail starting in March, with three of them specifically tailored to complement its Bravia line of TVs.
The DAV-HDX500 ($500), DAV-HDX267W ($300), DAV-HDX265 ($300) BRAVIA models combine a DVD player/changer with HDMI output with 720p/1080i video upscaling, a Digital Media Port that allows WiFi and Bluetooth devices connectivity to the system, and Bravia Theater Sync, making it easier for each component to talk to each other over HDMI. Sony is also installing Digital Cinema Auto Calibration (DCAC) in each unit, allowing you to balance your multi-channel surround sound setup with the use of an included microphone.
If you have a Bravia TV already and want your system to compliment its style, your best bet is probably the HDX500 which matches the look and height of Sony's television line. This model also includes XM Connect and Play jacks and height adjustable floor speakers. A wireless rear speaker will also be on sale ($130) but is only compatible with the HDX500 and HDX265 models while the HDX267W (which comes with wireless rear speakers already) unit will go on sale in April, one month after its cousins make their retail debut.
If you're looking for a 5.1 component package, the HT-7100DH ($500), HT-DDW990 ($300) and HT-DDW790 ($200) models come with five satellite speakers and a eight-inch subwoofer and have optical, coaxial digital, and component inputs. The DDW990 won't ship until May but the other two will go on sale next month.
Finally the RHT-G800 is a home theater system integrated into a television stand with a concealed 5.1 channel surround sound speaker system, dual 1080p capable HDMI inputs and one output. 5, ab S-Master digital amplifier and S-Force Pro front surround sound processing. It's also designed to look nice beside your Bravia TV and will set you back $1,000.