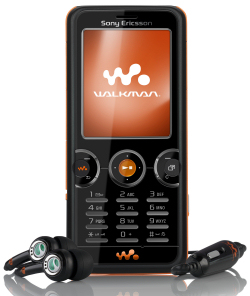 Sony Ericsson has announced a number of new mobile phone releases today, one of which that stands out to US customers is the W610 Walkman.
This new mobile music phone doesn't quite have the thin design of the W880 Walkman, but that doesn't mean its without appealing features. The first of these features is the quad-band with EDGE making the smartphone compatible with carriers in the US. It also comes with the Disc2Phone and Walkman Player 2.0 software package to manage and play music, and has 25 hours of music playback (7 hours of talk time and 350 hours of standby). Along with this software, we can't forget the TrackID application that will come with this device. TrackID is a music recognition application that allows users to record a clip of music with the W610 and receive an instant response of the track name, artist and album. Not too shabby.
The W610 Walkman sports a 2 megapixel camera, supports Bluetooth for a wireless headset and has an FM radio receiver. While taking still photos or video with this phone, it features a horizontal camera menu to allow users to hold the phone like someone might use a regular camera to take pictures, as well as upload them with a Picture blogging facility directly to an online blog. A 512MB external memory card is also included in box the for storing pictures, video and music.
"…the W610 Walkman phone combines the best in both music player & digital camera, whilst first & foremost remaining a phone that's intuitive and pleasurable to use.", says Steve Walker, Head of Product Marketing at Sony Ericsson in their press release.
The W610 comes in colors of Plush Orange or Satin Black is expected to be available from Sony Ericsson to US customers in the 2nd quarter of 2007.