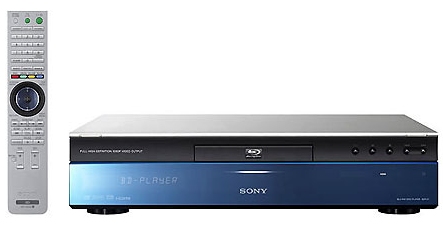 Continuing the battle of DVD replacement formats, Sony is launching a less expensive player for Blu-ray discs bringing some additional pull to the Blu-ray format over HD DVD to replace standard DVD's.
According to Randy Wayhick, senior vice president of home products for Sony Electronics, this summer the company will begin offering the BDP-S300 Blu-ray player, which has all the same capabilities as the BDP-S1 pictured here excluding the price tag. The BDP-S300 will retail for $400 less than the similar existing player, making its retail price at $599 USD. The new BDP-S300 will also be slightly smaller than the BDP-S1, will provide 1080p output and will be able to additionally play standard CD's.
"Eighty percent of people who buy a PS3 also buy Blu-ray movies to go with it," Waynick told reporters at a meeting according to Fox News. "The consumers have determined that that's the format they're choosing to go with". Waynick was referencing his statement from a Neilson VideoScan that showed Blu-ray discs outselling HD DVD's this year.
This price decrease will bring the player into a similar price range as current HD DVD players and provide a less expensive option for the Blu-ray format aside from the player built into the Sony PS3 which can be purchased for around $500.
This offering should help keep the battle between the rival DVD replacement formats alive for a while longer, but we all know the fate will lie in the adult film industries choice, whether they like it or not.