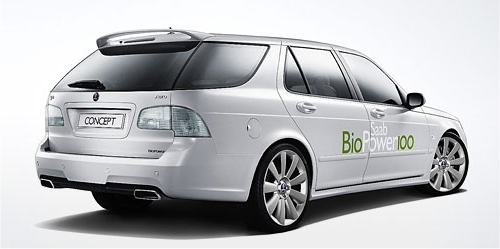 We don't cover a lot of auto news here at the Brick, but I have always liked Saabs and this seemed like a significant automotive innovation. I still miss my beloved Saab 900 which I traded for a VW many years ago.
Saab has developed an E100 fuel concept car that it is premiering at the Geneva Motor Show in March. The Saab BioPower 100 Concept demonstrates the first production-based engine optimized for pure bioethanol (E100) fuel.
Based on the Saab 9-5 SportCombi, the BioPower concept demonstrates the performance possibilities of bioethanol. The 2.0-liter turbocharged engine develops 300 hp made possible through modifications to the engine management system and internal components. This allows the BioPower 100 to achieve zero to 100 kph acceleration in 6.6 seconds and 80 – 120 kph (fifth gear) in 8.2 seconds.
Saab has already achieved success in Europe with its Saab 9-5 BioPower flex-fuel vehicle. The Saab BioPower 100 Concept is sure to build on that leadership position in the development of bioethanol technology.