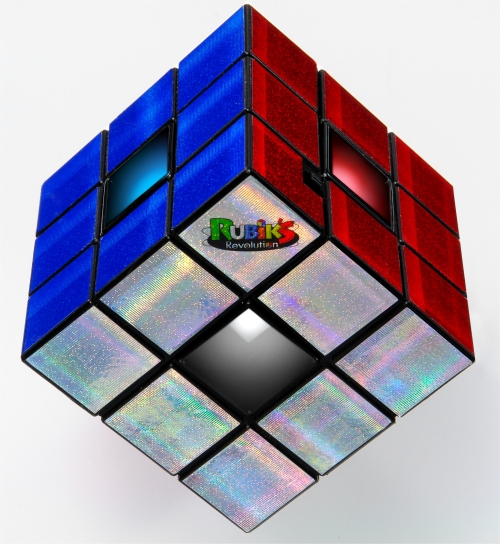 Today Techno Source has announced the debut of the next Rubik's Cube, literally. The Rubik's Revolution is to debut at the International Toy Fair in New York next week and is a new electronic version of the popular toy from the 80′s.
"Since Rubik's Cube was introduced in 1980, it has sold nearly 300 million pieces, making it an obsession, not to mention a pop icon, recognized around the world," says Eric Levin, Executive Vice President of Techno Source. "Rubik's Revolution was designed to be the perfect complement to the original 3×3 cube. It was born from the spirit of the original, yet it provides a whole new take on cubing. It is about speed. It is about smarts. It is a challenge worthy of the Rubik's name."
The press release from Techno Source about the puzzle cube states that it contains "…at least six built-in games…" which implies to us they might not be sure exactly how many games there are, but they do list the six they know of as Light Speed, Rapid
Recharge, Pattern Panic, Cube Catcher, Code Cracker, and Multiplayer Madness. And yes, the sixth game listed does mean that this electronic version of the Rubik's Cube allows multi-player gaming.
Rubik's Revolution even seems to have gained the endorsement of Professor Rubik, the original inventor of the Rubik's cube, when he added, "After more than 25 years, the Rubik's Cube has remained the ultimate puzzle for all ages. This new addition to the Rubik's lineup captures the essence of the original yet adds an exciting new spin."
The Rubik's Revolution will be available this summer retailing for $19.99.