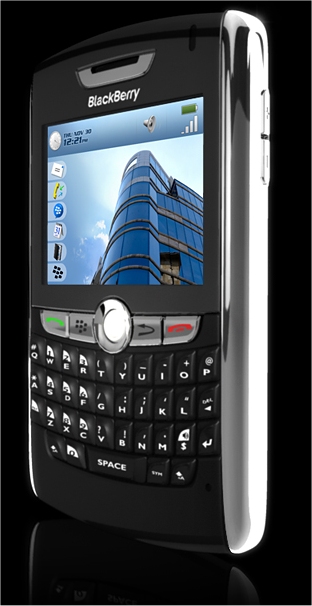 The BlackBerry 8800 is the thinnest BlackBerry handset yet and aims to satisfy everyone by combining important features from the successful BlackBerry 8100 and the business-oriented 8700.
The quad-band GSM/GPRS and EDGE-enabled 8800 provides integrated support for voice and data applications, including phone, email, text messaging, web browser, organizer, multimedia, GPS, and more.
Navigation on the 8800 is accomplished through the full QWERTY keyboard and RIM's trackball navigation system. The landscape display makes it easy to view emails, attachments, pictures, videos, web pages, business applications, and games. A sensor automatically adjusts the brightness of the screen, keyboard, and trackball in varied lighting environments.
The media player supports MP3 and ACC music files and MPEG4 and H.263 video files. Memory is expandable via microSD cards and the high-capacity battery will give you the great battery life for which BlackBerry handsets are known. Support for polyphonic, mp3 and MIDI ringtones is included.
The 8800 also includes a built-in GPS that can pinpoint its location and provide "out-of-the-box" support for a wide variety of location based applications and services. The BlackBerry Maps application provides driving directions, route tracking, and integrates with other BlackBerry applications, so that users can generate a map from an address in their BlackBerry Address Book or send maps via email.
Other important features on the 8800 include noise cancellation, Speaker Independent Voice Recognition for Voice Activated Dialing (VAD), smart dialing, conference calling, speed dialing and call forwarding, as well as dedicated "send", "end" and "mute" keys.
RIM introduced the BlackBerry 8800 Smartphone at the 3GSM World Congress in Barcelona. The 8800 will be available from a variety of carriers worldwide beginning in February 2007.