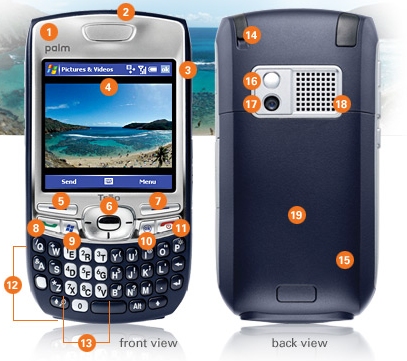 Palm announced today that the Treo 750 smartphone will be made generally available to customers across Europe through the Palm online store starting February 6th, 2007. The Treo 750 was previously only available on Vodafone's network in the UK since last September, but this announcement opens the device up to all mobile phone networks.
The Palm Treo 750 runs on Microsoft's Windows Mobile 5.0 OS and will feature Pocket MSN along with view and editing capabilities for Word and Excel, and allowing viewing of PowerPoint and PDF files all through a touchscreen interface.
The smartphone device is compatible with 3G UMTS/HSDPA networks and takes advantage of Microsoft's Direct Push technology to give quick and wireless email and contact updates to the handheld gadget.
"The Treo 750 smartphone – made available first with Vodafone in Europe and recently announced with Cingular Wireless in the United States – continues to expand our customer reach globally", said Roy Bedlow, vice president, Palm EMEA. "The addition of HSDPA is just one of the great benefits the new Treo 750 smartphone has to offer professionals who want a strong mobile computing experience."
The Palm Treo 750 will be available from the Palm Store unlocked for around £429 ($844 USD).