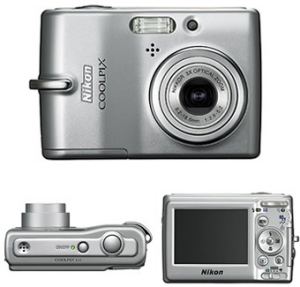 Today Nikon has announced a number of new cameras to their COOLPIX line to celebrate the 10th anniversary of the brand, and a new COOLPIX logo to boot. The COOLPIX L10 and COOLPIX L11 are similar and simple point and shoot cameras targeting the beginner.
The COOLPIX L11 is a 6.0 megapixel camera that features 3x zoom (4x digital zoom), automatic light sensitivity and the ability to automatically recognize and focus on faces when they are in frame. Nikon also states that the L11 is compatible with AA batteries. This can certainly be a convenience for the times you forget the charger, but it is also a way for Nikon to sell a camera without rechargeable batteries or a charger; both of these items are optional add-ons that come separately. A set of alkaline AA's do come in the package, though.
The L11 also comes with the PictureProject software from Nikon, which is not an advanced software package by any means, but does work well to download organize and share photos from your camera.
The Nikon COOLPIX L10 is almost the same camera, but is 5 megapixels instead of 6, and has a 2.0″ LCD display compared to the 2.4″ on the L11. The L10 is also not ImageLink compatible, where the L11 is. Both cameras also have 7MB of internal memory with and SD card slot.
The weight of the COOLPIX L11 is 4.4 oz and dimensions are 3.5 x 2.4 x 1.1 inches. The L10 is just .1 inch thinner and .3 oz lighter.