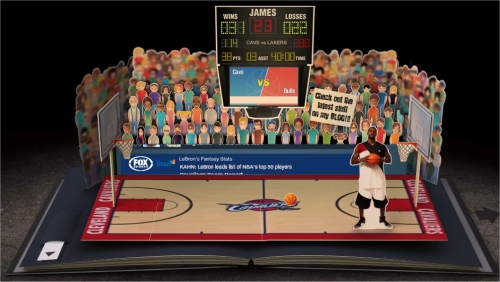 MSN recently announced a new mini-website featuring LeBron James of the Cleveland Cavaliers. The site illustrates the inspirational story of the three-time NBA all-star and encourages kids to take action in their lives and make a difference of their own.
The Website is in a storybook-style and allows kids to explore LeBron's role as a community activist, his dedication to basketball and academics including his devotion to his friends, family, and teammates.
The flash-based site includes interactive Windows Live content for people with a MSN account or a Windows Live Space. It is also a forum where James can interact with MSN users and share his experiences and encouraging messages.
A special section of the Website includes a series of challenges and obstacles issued by LeBron. As participants complete the challenges, LeBron shares the difficulties and successes he faced and offers advice on how to handle tough situations. James will issue new challenges every few weeks and kids can track of their progress and compare themselves with other challengers.
"I've always wanted to have a place where kids can see all aspects of my personality — where I can really talk with them about where I came from, what I do and how I achieve my goals," James said.
The Cavaliers are currently over .500 and 3rd in the Eastern Conference. LeBron is 7th in scoring this season, averaging 26.4 points a game.