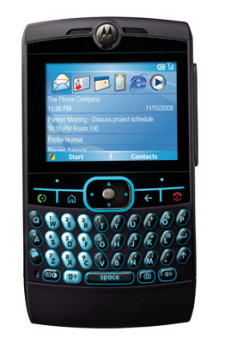 Motorola has unveiled two new additions to its Q platform of smart phones with the arrival of the fully customizable Moto Q q9 and the Moto Q gsm.
The gsm model adds a few new features to the original Moto Q model while retaining the original's lightweight, attractive design elements. An electro-luminescent QWERTY keypad, full-color screen and side thumb wheel make it convenient to answer your email or flip through your messages. The gsm runs Microsoft Windows Mobile 6, Motorola's Good Messaging Technology, has over 300 tweaked Motorola apps and includes quad-band GPRS and EDGE connectivity. It hits store shelves in the second half of 2007 with pricing specs to be unveiled at that time.
With added design features the Moto Q q9 comes across as the better dressed older brother.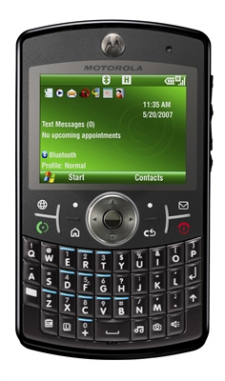 Featuring a more stylized design, rounded corners, a couple more smart keys and a smart sensor that raises or lowers the keypad backlighting and color display based on the ambient light level, the Q q9 comes loaded with a standard 256 MG and can be beefed up with a easy to access side-load micro-SD slot. Included are the same WM6 and GMT software and apps found in the gsm along with Windows Mobile PlaysForSure, a USB 2.0 slot and is fully HSDPA compatible. The Q q9 (say that five times fast) is slated to be ready for sale in the second quarter of '07 with price TBA.
Mobile Phones, Moto Q, Moto Q gsm, Moto Q q9, Motorola, Q