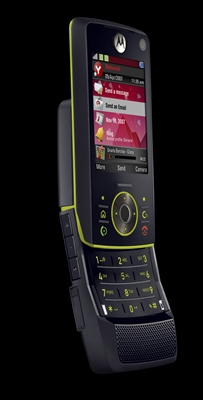 Motorola has announced the new MOTORIZR Z8 from Motorola featuring a sleek design that's becoming commonplace with Motorola phones, but this one has a slight twist, or more of an angle really.
The Z8 has a "kick slider" design, which slides out to expose the keypad while creating a slight angle to match the contour of the face. The intention here is to make the use of the mobile phone more a little more comfortable, and we're always happy to see new designs for cell phones, even if it is just a slight change.
The MOTORIZR Z8 packs some decent multimedia capabilities with a 2 megapixel camera that can shoot photos as well as video with audio straight to an MPEG4 format. The handset also houses a 16 million color QVGA display and supports video playback at up to 30 frames per second.
Multimedia can be stored on 90MB of internal memory, but that won't get you very far these days. To add to that, the Z8 has a microSD slot and supports cards up to 4GB to expand the capacity of songs, pictures and video the phone can hold.
This quad-band world phone also supports HSDPA for its high speed internet as well as stereo Bluetooth to take advantage of a wireless stereo headset. Availability of the MOTORIZR Z8 from Motorola is expected in April, 2007 with pricing to be determined.