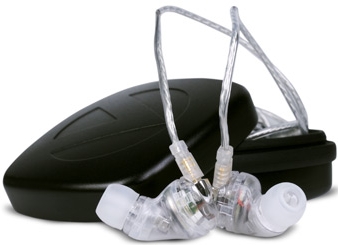 In a twist on the Comic Book Guy's famous catch phrase, we are giving praise to some of the best, if not the best, earplug style headphones that we have seen lately. The M-Audio IE-20 XB Reference Earphones are professional grade in-ear style earphones, but they are more than that. They have a large bass driver that makes these earphones really stand out.
Usually earphones lack the low end oomph that larger head phones have. This is not the case with the IE-20 XB, however, as they deliver great bass performance, as well as high-end and mid-range. The XB stands for Extended Bass and M-Audio means it. The IE-20 XB has two dedicated speakers built in, one for low frequencies and one for mid-range and high frequencies. The earphones themselves are extremely large as they must pack in the low-end driver, the armature driver for mid and high frequency and a built in crossover to route the frequencies to the correct driver. The two separate frequencies are actually delivered by two separate canals into the ear. That's a lot of hardware to cram into this small package.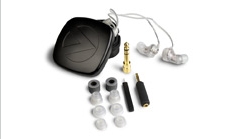 While the earphones are big, they are also surprisingly comfortable. Like most earphones, the IE-20 XB comes with a fit kit to ensure the proper fit for any size or shape of ear. Proper fit for an in-ear style headphone is important as the seal in the ear is required for proper base response. Even the best earphones will sound bad, if not properly fit.
The IE-20 XB is a professional model and M-Audio designed these earphones for the long haul. The cables on the earphones are actually replaceable. I can't count how many headphones have become ruined because the cheap cord was damaged.
The price tag is a little steep at $250 but you could look at this as an investment. Over the years, I've gone from buying $20 cheapies to more expensive models. Anyone who has the luxury of listening to music all day will testify that more expensive headphones are definitely worth it. I use my Shure E2G earphones for light duty listening on the road and at the gym and I really like the fact that they are small and portable and I usually just keep them in my coat pocket. I think the E2G or the E2C model on which they are based are excellent bargain headphones. However if you want to really experience bass response, you have to move up to something like the IE-20 XB.
I work in a pretty quiet environment but some times co-worker conversations can be distracting and if you really need to concentrate nothing helps more that a good set of noise isolating headphones. Regular over the ear headphones are no good unless they provide total coverage. However with the old-style radar operator headphones, you really look like a geek and the ribbing from co-workers just isn't worth it. That's why I like the smaller in ear models. You can carry them anywhere like planes, cars, the gym, etc without even noticing that they are there in your pocket.
If you are serious about your mobile or even not so mobile music; you should give the M-Audio IE-20 XB earphones some consideration. After all, if you dropped over $300 bucks on an iPod, why skimp on the headphones that make it all worthwhile?
Manufacturer's Site: http://www.m-audio.com
Product Page: http://www.m-audio.com/products/en_us/IE20XB-main.html
Specs:
Speaker: Dual driver: low range 13.5 mm diaphragm , high range precision-balanced armature
Noise Isolation: 16dB
Frequency Response: 20Hz-16kHz
Impedance: 11 Ohms @ 1kHz
Cable Length: 46"
Connector: 1/8" gold plated
Case: metal
Cost: $250