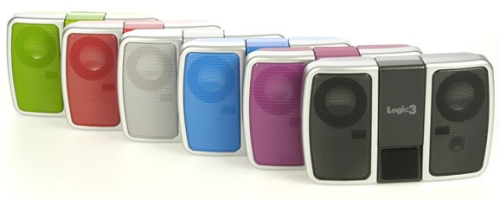 A day would not be complete if an Apple iPod accessory didn't come across my desk. This one is called the i-Station Traveller from Logic3 and is a pocket-sized portable speaker system which allows you to share your tunes with others wherever you go.
The i-Station is pictured with an iPod (not included) and has the indicative 'i' in the name, but in actuality this portable speaker system can work with just about any digital audio player since the sound is through a line-in cable. The design and name of this speaker gadget from Logic3 certainly do lend it to be associated with iPod, however.
The i-Station Traveller runs off of 4 AAA batteries delivering 4 watts of output, comes with a protective travel case and comes in six colors; green, red, white, blue, purple and black. Running at around £20 ($39 USD) the price is really not too bad for this stylish little portable speaker system.
Green Model [Logic3]