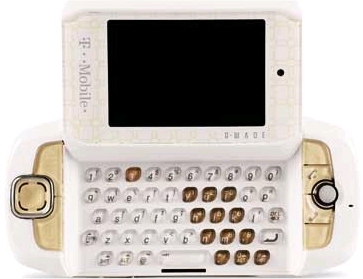 T-Mobile recently announced a new Limited Edition Sidekick 3, this one being designed by Dwayne Wade of the Miami Heat. The number three of the Sidekick has some significance with Wade since it matches the number of years he's been in the NBA, the number on his jersey and references his 3-point plays on the court. Also, Dwayne Wade has been a Sidekick 3 user for a number of years.
The new Sidekick 3 is white with copper accents and the back of the device has been created to look and feel like the surface of a basketball. Aside from the court, Wade's design of the new Limited Edition Sidekick was also inspired by his love of high-end automobiles and the white and bronze contrasting colors found on Miami Beach.
Apart from the new look, the functionality and usability of the Sidekick 3 has remained the same as it was with the regular Sidekick Limited Edition LRG Sidekick 3 from T-Mobile. No information yet on when this will be available, but based on the photos and a leaked PDF via Rap-up.com, it will probably be pretty soon.