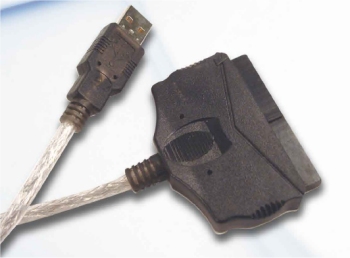 This IDE to USB adapter from Vantec is a really handy tool. Whether you are trying to retrieve data from a hard drive or looking for some simple external storage, this makes the connection very simple.
The IDE to USB adapter had a 140cm cable that has an IDE interface on one end and a USB 2.0 interface on the other; pretty simple. The IDE interface is a 3.5″, but the device has a small adapter that brings it down to the 2.5″ models as well. When the cables are connected and the hard drive is powered up, the computer automatically detects the external HDD hardware and you can start transferring files. No software is needed for Windows XP or 2000, and the device is compatible with Windows 98/ME/XP/2000 as well as Mac OS 8.6 and above.
Powering the hard drive comes from the IDE adapter as well. A separate cord is supplied that plugs into a wall outlet and connects directly to the "D" shaped 4 pin power interface directly on the 3.5″ HDD. A small connection makes the jump from the power to the 2.5″ IDE interface as well.
Using the cable adapter takes less time than connecting the hard drive to the IDE cable inside the computer and allows you to hot swap the drives with no rebooting to connect it. At about $20 the IDE to USB adapter is also less expensive than buying a hard drive enclosure when you are looking for a quick data transfer.
Product Page [Vantec]