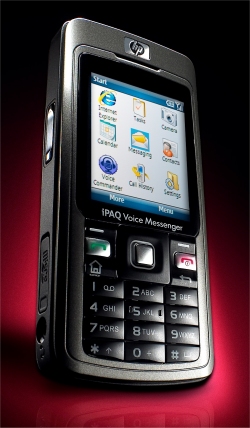 Today HP announced a new iPAQ smartphone to their product lineup featuring voice control and hands-free functions along with any array of wireless connectivity.
The new iPAQ 500 series Voice Messenger phones can understand over 20 different voice commands, include a voice reply command that allows the user to dictate their voice into an email message and send it, never having to key anything into the phone. The voice commands also control navigation of the phones menus and will read email and text messages so the user can listen to them instead of reading them.
The new iPAQ runs on the new Windows Mobile 6 OS and supports VoIP via built-in WiFi, "push" email, Bluetooth and GSM/EDGE.
"Busy professionals are constantly flooded with email and looking for ways to quickly and easily manage it and move on with their day, said Dave Rothschild, vice president, HP. "Our HP iPAQ Voice Messenger smartphone gives mobile users an easy way to manage all types of communications and stay focused on their business."
The HP iPAQ Voice Messenger mobile phones should be available yet this spring in the US, with pricing starting around $300.