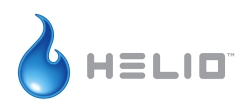 Helio has added a music service to its ever-expanding line of custom-built 3G services. With Helio Music, the company now has a full mobile over-the-air music download service with some innovative sharing features that every music lover should appreciate.
Helio members can find their favorite music in the library by searching for artist, album, or song. Members looking for something new can get recommendations for a particular category or preview Featured Songs, Top Music, and New Releases. Members can also read artist bios, browse images, preview songs, get recommendations, and of course download tracks.
With Artist Alerts, Helio members can be notified when a new song from their favorite band enters the library via text message. Helio members can also find Rings, music videos, and VideoRings for their favorite artists.
Helio members can share music by allowing to "Gift & Beg" full-track downloads. A member can "gift" a track to a friend and the track will be downloaded directly to their friend's device. Conversely, members can "beg" a friend for a new song and receive a musical gift in their library.
Helio also plans a PC version of Helio Music this spring. The PC version will give members the ability to get the same song on both their mobile device and their PC for one price.
The Helio Music library will initially consist of thousands of artists from music labels like Universal Music Group, Warner Music Group, SONY BMG MUSIC ENTERTAINMENT, and EMI Music. Helio Music will initially be available on Drift and is slated for all future Helio devices. Helio Music is included with Helio All-In Memberships. Tracks can be downloaded for $1.99 per song.
Helio has been on a tear of late, signing deals and releasing services such as MySpace Mobile, GPS-enabled Google Maps for mobile, Obopay, Buddy Beacon and "Gifting & Begging". It is innovations like these that have put Helio on track to surpass 100,000 subscribers by early in the second quarter of 2007.