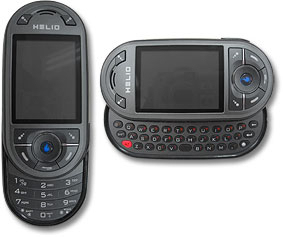 A Helio branded phone has recently been discovered seeking approval on the FCC website, featuring a new multi-layer design.
The Pantech PN-810 made for Helio appears to be a new smartphone design solution with a unique triad of interfaces. On the face of the phone there is a relatively large 260k TFT LCD display with a handful of navigation buttons, but no keypad. Slide the phone length-wise and it exposes a number pad for dialing, and slide it sideways to expose a full qwerty keyboard. I'd be willing to bet that the view switches to landscape when the qwerty keyboard comes out (no numbers).
The double sliding Helio also contains EV-DO radio, Bluetooth and a 2.1 megapixel camera. Since this mobile phone is still kind of under wraps, there is no word on availability or price, but we will definitely be watching for this one.