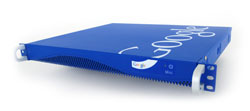 Google has announced an improved version of its Google Mini search appliance. The new Mini offers document and user-level security, access to other business applications through Google Onebox for Enterprise, and integration with Google Analytics.
The Google Mini is a combined hardware and software solution that can search from 50,000 up to 300,000 documents and 220 different file types. Mini was introduced two years ago as a small, simple and affordable appliance to aid small business in finding and sharing information.
Secure Search
The new Google Mini now offers document and user-level security across all business content. Google's entitlement management capabilities will integrate with existing security systems to ensure that employees can access only authorized information.
OneBox for Enterprise
The Mini's new OneBox for Enterprise feature enables users to view search results from various business applications through a single Google interface. OneBox integrates with enterprise application vendors such as: Business Objects, Cognos, Cisco, Employease, Microsoft Exchange, Netsuite, Oracle, Salesforce.com, SAP, SAS, and others. Organizations can also create their own OneBox modules to interface with custom applications built in-house.
Site Search Improvements
Administrators can now link the Google Mini search results page with Google Analytics to provide more detailed information about how people use search on their site.
Google is maintaining the current price range of $1995 to $9,990 for the Mini which is sure to put the pressure on competitors in the paid enterprise search domain.