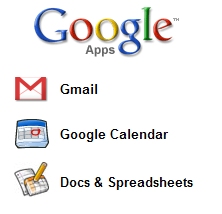 Google has released an enterprise version of its popular hosted productivity and communications suite, Google Apps. Google Apps Premier Edition will cost businesses $50 per user per year.
For $50 a user you get the entire Google Apps package plus access to APIs, conference room scheduling for Calendar, 10GB of storage for email, extended phone support for critical issues, and mobile GMail on your BlackBerry.
Google Apps includes GMail, Talk, Calendar, Start Page, Docs and Spreadsheets, and Page Creator. Google Apps currently comes in three editions: Standard, Education, and Premier. The Standard and Education editions will remain free.
Google has already signed on some larger companies such as Procter & Gamble, General Electric Corporation, and Prudential to use the new service.
Gmail For Your Domain was launched back in February 2006 as an invitation-only beta and allowed Gmail to be used with a custom domain name. The service was rebranded as Google Apps in August 2006 and incorporated more services, including Google Calendar, Google Talk, and Page Creator.
Google is offering a free trial version of Google Apps Premier Edition through April 30th, 2007.
Google Apps is hosted by Google, which makes it a great solution for smaller organizations who have limited time to deal with hardware or software setup and maintenance. Google Apps still doesn't replace the full functionality of Microsoft Office or OpenOffice. It is however, a MUCH more affordable option. And options are always good.