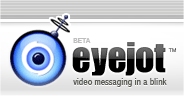 The problem I have with email and instant messaging is that people can easily misinterpret my message differently from the way I had intended. It can be hard to show your true emotions – anger, humor, and especially sarcasm without the benefit of facial expressions, gestures, or voice inflection.
Eyejot is a web-based, client-free video messaging platform that will help you get your point across much more effectively than email. Using your webcam, you can create a video message and send it via email. Through a video, your friends, family and business contacts are sure to pick up on your rapier-like wit when they see AND hear your message.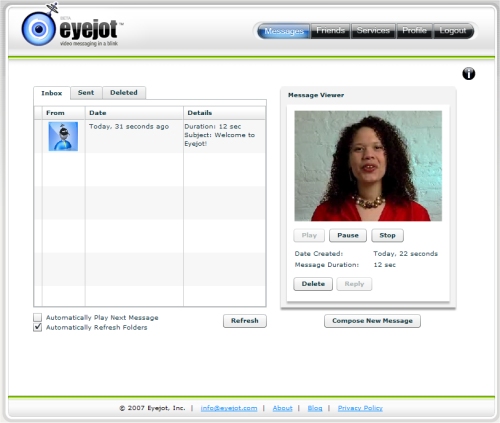 There is no client to install and Eyejot requires only a web browser (IE, Safari, Firefox, Opera), Adobe Flash 9, a webcam, and a microphone (if your webcam doesn't have one). Video messages can be added to MySpace pages or viewed on a video iPod. There is an Eyejot Site Widget tool that allows you to put Eyejot video on your website. RSS support allows people to subscribe to video messages too.
Sure, you could probably do this by embedding video files into your current email, but Eyejot saves you a lot of cutting and pasting. I'm sure it will only be a matter of time before other email systems catch up and add video messages to their platforms too.