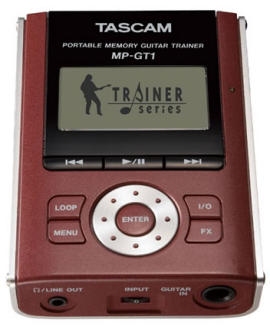 This MP3 player from TASCCAM is designed with the guitar player in mind, housing many features which make it easier for the up and coming talent to jam along with the player.
The MP-GT1 model from TASCAM is an MP3 player small enough to fit into your pocket but large enough to run for 9 hours on one set of batteries and hold 240 songs. Music files can be loaded through a USB connection from your computer straight to the player.
Features of this specialized musicians MP3 player include the ability to slow down the playback without changing pitch, looping playback to hear a particular "riff" repeatedly, and the ability to manually change the pitch of a song to match that of your guitar. Having no ear for pitch whatsoever, I have to assume this is a good feature.
The player also has a an input jack for the guitar which allows playing along with music applying different effects including canceling the existing guitar track all together. Its unclear if direct recording of your play is available, but that would definitely be a cool feature.
The Tascam MP-GT1 is expected to be available for purchase Febrary 28th, but pricing is not yet available.
FarEastGizmos via Crave