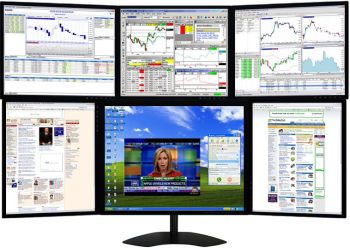 Let's just admit it: we would all love to have our dream computer desktop that looked more like something from the starship Enterprise rather than something from the display wall down at Office Depot. Well, there's a monitor making company called CineMassive that is out to make our Captain Kirk wish fulfillment come true with an impressive six monitor set-up that turns your desktop into a drive-in.
The heart of the beast is a 21.3-inch Premium Digital Samsung LCD monitor (1600 X 1200 SXGA) that is surrounded to its sides and top by five 17-inch versions (1024 X 1280 SXGA.) Crossbars in the back support the weight of the upper monitors When this Godzilla-sized display is unfurled you get a whopping 44-and-a-half inches of screenage.
With over 8 million pixels in the package (and CineMassive guarantees that not one will be dead or else they will replace the monitor in question) and a three year warranty we're almost ready to open our checkbook and lay down the $3,299 needed for this monster. Who needs multiple windows open when you have multiple screens?
Source [Gadgetopia]

No related posts