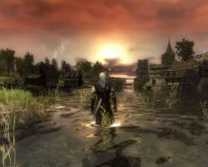 After announcing they would distribute the game to Europe and Asia, Atari along with CD Projekt announced today that they will market and distribute 'The Witcher', an RPG game that will be released on Games for Windows this fall in North America.
"The Witcher is a tremendous game that has been on everyone's radar since CD Projekt began development," said Jeremiah Cohn, Product Manager, Atari, Inc. "With this publishing deal, Atari continues its quest to bring highly impressive titles to North America and we have our sights set on making The Witcher one of the most anticipated RPGs of the year."
The Witcher, based on a world created by Polish author Andrzej Sapkowski, will add a new twist to traditional role playing games in that decisions made by the player can make significant changes in the game outcome. The game is currently under development and will be a single player game, only.
"We are delighted to begin a mutually beneficial relationship with Atari, a publishing partner that shares our commitment to delivering a top-quality role-playing game," said Michal Kicinski, Joint CEO of CD Projekt. "We are very much looking forward to working with Atari to bring this distinctive fantasy world that we love to a broad audience."
The Witcher is expected to be released in Europe yet this Spring and will be available in North America through Atari towards the end of this year.
Source: Monsters & Critics