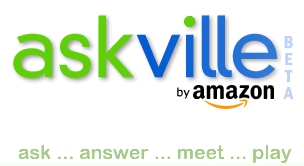 Askville is a question and answer website from Amazon that uses a system of Experience Points, Levels, and Quest coins to reward contributors. Askville is similar to Yahoo! Answers or the now defunct Google Answers in that you ask questions of a community of experts.
Questions submitted to the Askville community are open for 7 days. Depending on the interest your question drums up and/or the difficulty of the question you will get up to 5 answers back from the Askville community during those 7 days.
You can monitor new questions and view featured questions and most active discussions. At the time I looked at the site the top featured question was "Why do people drink alcohol for the taste?" Good question, I wasn't aware that they did drink it for the taste.
To reward contributors, Askville uses rewards in the form of experience points, levels and quest coins. Experience points are used to determine how knowledgeable a user is in a given topic. Experience points are broken into levels and to reach a certain level you need to have earned a certain number of experience points in that topic (this is beginning to sound like D&D).
Users can also earn Quest Coins, a virtual currency on Askville. Askville users can earn Quest Coins based on specific actions you take as a user in Askville. Quest Coins are meant to be used with an upcoming site called Questville.com which is slated to launch in 2007.
Answer websites come and go (just ask Google). Yahoo! is the big dog in the Q&A domain and it remains to be seen whether Askville has all the answers to make it in the long term. As with every website, the site is in beta but you can still create an account and ask all the questions you want.