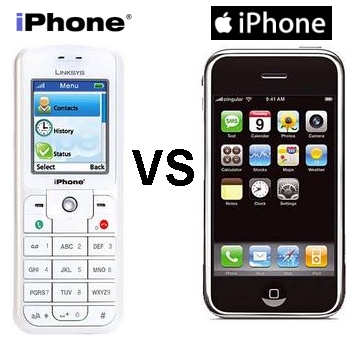 Apple and Cisco have reportedly come to an agreement out of court regarding the pesky lawsuit Cisco filed against Apple for trademark infringement on the iPhone name, according to the WSJ. This agreement comes after weeks of negotiations with multiple extensions granted by Cisco before Apple had to reply to federal court.
In the long awaited agreement, both companies agreed to dismiss any legal actions regarding the iPhone trademark and Apple will be allowed to use the 'iPhone' name for its new multimedia device along with Cisco. Both companies will be able to use the name in their products worldwide. In exchange, the companies will continue to explore some "wide-ranging interoperability between the companies' products in the areas of security, consumer and business communications." No more details of the agreement have been given aside from this statement, but this is type of result is most likely what Cisco was looking for in the first place.
Cisco and Apple had been in negotiations for the iPhone trademark until just prior to Steve Jobs unveiling the Apple iPhone at the annual MacWorld in San Francisco on January 9th. Cisco filed a lawsuit with Apple within 24 hours of the announcement on the grounds that Apple was in violation of a trademark infringement. Apple had initially dismissed the lawsuit and at one point even called in "silly", although as the lawsuit stuck and the day grew closer that Apple would need to provide a formal reply in court, Apple restarted negotiations.
Cisco had owned the iPhone trademark since 2000 when they had acquired it through a smaller company they had purchased. Cisco had then released a VoIP phone product through Linksys, a company that is part of Cisco, only a month before Jobs was scheduled to release the Apple iPhone. Cisco had to have known of the upcoming release date due to the negotiations they had with Apple for the iPhone name, and having a similar product branded with the iPhone name gave Cisco an extra legal edge for rights to the trademark.
More details are likely to surface in the following days, but for now can we say everybody wins?