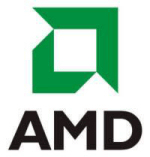 AMD announced Wednesday the first chipset from the company that combines AMD's technology with ATI's in the ATI Radeon X1250 GPU.
By combining the Radeon graphics processing with AMD's 690 chipset they eliminate the need for a separate graphics card. "With its leading image quality and 3D graphics capabilities, the AMD 690 series chipset is a proven performer, easily handling the demanding workloads of today's PC users," said Phil Eisler, corporate vice president and general manager, AMD Chipset Division in a press release Wednesday. "This is just the first in a line of innovative, high- performance AMD chipsets that we'll introduce to address every sector of the market."
The new integrated 690 chipset is said to provide an excellent viewing experience with operating systems such as the new Windows Vista making Windows Flip and Windows Flip 3D an common part of the computer using experience. AMD says the resulting platform is energy-efficient and has a compact design for multiple different computer case form factors and can support up to four monitors by adding a dual-DVI ATI Radeon graphics card. This will also be the first chipset with both an integrated HDMI and a separate DVI output, and additional supports playing protected content through on-chip HDCP support.
"As one of the first chipsets with motherboard graphics to receive the Certified for Windows Vista logo, the AMD 690 family is a testament to the ongoing relationship between Microsoft and AMD," said Dave Wascha, director of partner marketing for Windows Client at Microsoft Corp. "ATI Radeon graphics deliver excellent Windows Vista performance. We're proud that together we're able to provide consumers worldwide an experience that is easier, safer, more entertaining and better connected whether at home, at work, or on the go."
AMD says the chipset will be available through over a dozen partners including ASUS, Foxconn Technology Group, GIGABYTE United Inc and others.