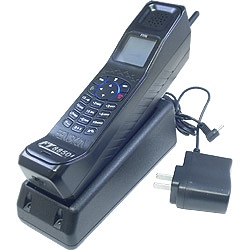 Since the first flip phone came out in the early 90′s mobile phones just haven't been the same, and it just wouldn't be right if the Brick passed up reporting on this retro style 1980′s cell phone. A brick can mean a number of different things; solid and reliable, some gadget rendered useless by time or technology and of course a great big heavy cell phone that makes you taste pennies and forget your name after more than 15 minutes of continuous use.
The 80′s Brick Cell Phone model FY8850 is an actually working mobile phone replica that looks old but has modern technology. It's unlocked and works on any GSM network (900, 1800 or 1900 but not 850). There is no wireless headset, Bluetooth, car charger or USB connection since that would just go against how this phone should be used. A large cell phone brick like this has no business being connected to a computer or Bluetooth headset of any sort.
The Brick cell phone does however have a color display, speakerphone, screensavers and wallpapers, polyphonic ringtones and a 500 entry phonebook. It also supports SMS messaging and T9 text input, and sports a calendar, alarm clock and a calculator. Weighing in at almost a full pound with battery and just under 8 inches long, this cell phone does not disappoint and can certainly help round out that retro look you've been going for. You can now get your own for five times the cost of the original version at a sensible $169.
80's phone, Brick cell phone, Mobile Phones