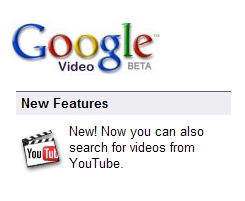 November saw Google's acquisition of YouTube and many of us wondered what would happen to the existing Google Video product. Certainly Google wouldn't need two competing Video services. A recent post in the Google blog by Salar Kamangar, Vice President of Product Management, has shed some light on their plans for Google Video and the future of video in general.
Google's extraordinary strength has always been creating products that make information more available and easily searchable. Google products aren't necessarily known for their friendly, cheerful interfaces which is likely a big reason they bought YouTube – in addition to the vast legions of users. YouTube's strengths are its community of users who create, watch and share videos. Google's plan is to make the most of the strengths of these two products.
Google Video will be relegated to a video search tool. While not necessarily a demotion, it is a more focused use of the product. Google Video search results will now include links to video hosted on YouTube. When you click on YouTube thumbnails, you will be taken to YouTube.com to view the videos. Google Video will ultimately evolve into a comprehensive video search service by indexing all online video content, regardless of where it is hosted.
Also according to the Google Blog, YouTube will remain a subsidiary of Google, and will continue to operate separately. Google will support YouTube by providing access to search and monetization platforms. YouTube co-founders Chad Hurley and Steve Chen will remain in their roles and continue to innovate exciting new ways for people to "broadcast themselves."