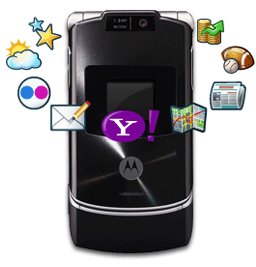 Yahoo introduced its "Yahoo Go for Mobile 2.0″ mobile tools collection at the CES yesterday. A key component to Yahoo's mobile strategy is search and Yahoo hopes to gain ground in the crucial search market with its OneSearch product.
The product is still in beta, it is available for download. The Yahoo Go for Mobile 2.0 is an application that consists of a series of "widgets" that are built for easy usage on a mobile device. Besides search, users can access other Yahoo services like Flickr, e-mail, maps, weather and finance each have a dedicated widget.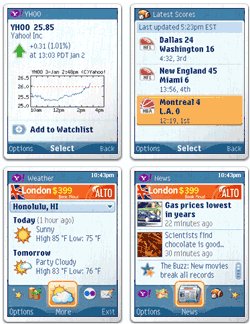 Although less than 5% of mobile users surf the web from their phones, many companies are trying to position themselves for the anticipated rapid growth in the mobile applications market. Some experts believe growth of mobile applications has been slow because many wireless providers want to charge for the applications. Yahoo and others want to give the services away for free and then hope to make money on the advertising.
Yahoo has partnered with phone makers like Samsung and Motorola. It is also partnering with carriers world wide to take advantage of the broader wireless markets overseas. Yahoo still needs a US wireless partner to carry its Mobile platform.
Yahoo has optimized the search capabilities by providing a broader range of answers to a query. The search interface remembers previous queries which may cut down on typing. Entering a company name will give you a link right to the companies site at the top of the search listings. The interface is customized for a mobile environment, instead of the traditional approach of trying to reformat regular web pages to fit on a small device's screen.
Yahoo has seen its revenue flatten and is facing stiff competition from Google for ad revenue. Google has also entered the mobile search space along with Microsoft. It is anticipated that Apple might also offer a mobile phone service.