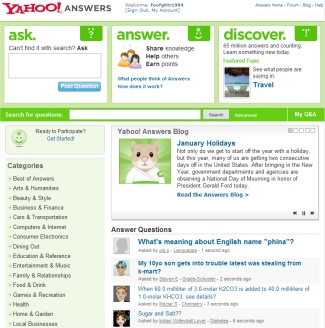 According to a recent study by Hitwise, Yahoo! Answers is dominating all of the pure Q&A websites by capturing 96.1 percent of the US market. The nearest competitor was Answerbag with 2.1%, while the remaining competitors garnered less than 1% of the market share.
Wikipedia still has the lead in the Education – Reference category, receiving a commanding 1/5 of the visits, with Yahoo! Answers ranking #2.
The study also found that Yahoo! Answers was the 100th most visited domain out of over 500,000 websites tracked by Hitwise. 52% of visitors to Yahoo! Answers were female and 22% were between the ages of 18 and 24.
Yahoo! Answers received 53% of its traffic from search engines which was nearly evenly split between Yahoo! Search and Google. This traffic consisted of 42,087 search terms with the leading search term, "yahoo answers", capturing only 0.59% of the volume. In addition to Google indexing its Answers pages, Yahoo! is also enjoying the benefits of the long tail effect.
Google recently retired its own Answers service, calling it "a great experiment" and never really giving a clear indication as to why it was put out to pasture.