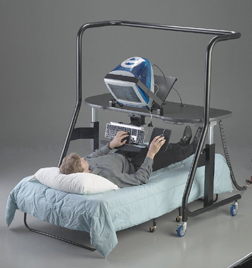 Finally! I knew the day would come where something like the Ergopod would find me and allow me to actually completely lie down while using my computer.
Having been a software developer for a number of years has made me practically an expert in slouching in my seat while working. Although I haven't mastered the art of going completely horizontal with my chair as I have seen other more seasoned developers achieve, if it weren't for my fingers moving my consciousness would be questioned at times.
The Ergopod from Office Organix is a cleverly designed workstation that supports standing, sitting, reclining and laying supine while supporting comfortable access to a keyboard, mouse and monitor. The applications for the Ergopod range from anyone with special physical needs that require standing or lying down to those that spend an extended period of time at the computer despite the hounding from their wife to mow the lawn… hypothetically speaking.
I personally would like to try my hand at the supine position since that seems to be the direction I usually head toward the end of the work day, anyway. Add some drinks and a bag of chips and we have the perfect environment.
Source [Office Organix]